Hello, I'm Leo Sato (@slamdunk772), the CEO of applemint, a digital marketing agency in Taiwan!
We recently, hired a new illustrator named Apple (@applemono_studio). What's amazing about her is that she has more than 30,000 followers on Instagram.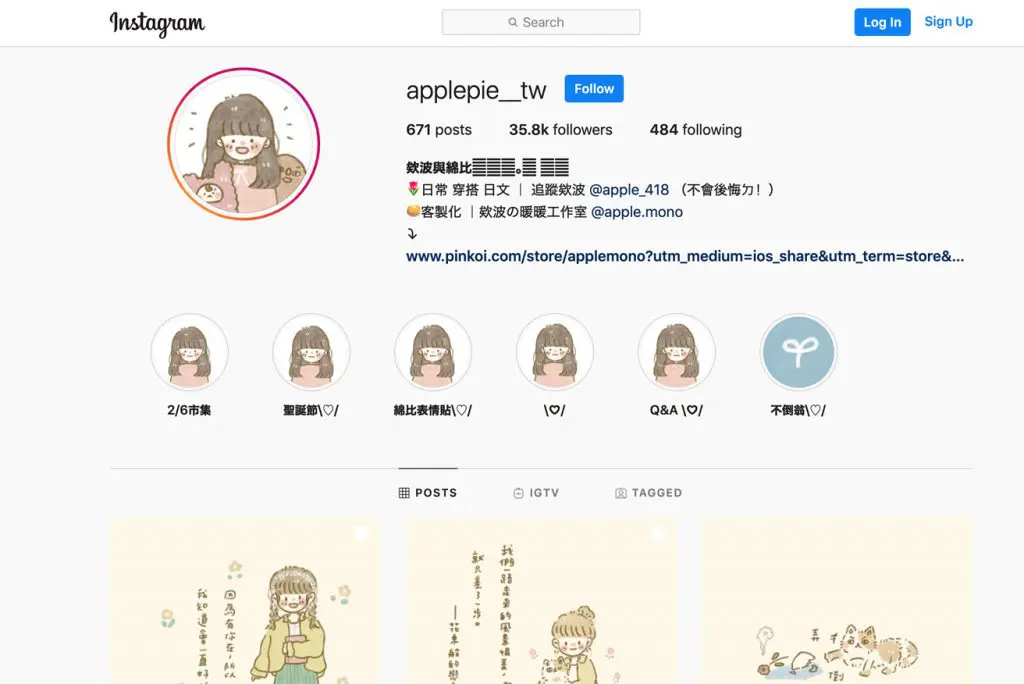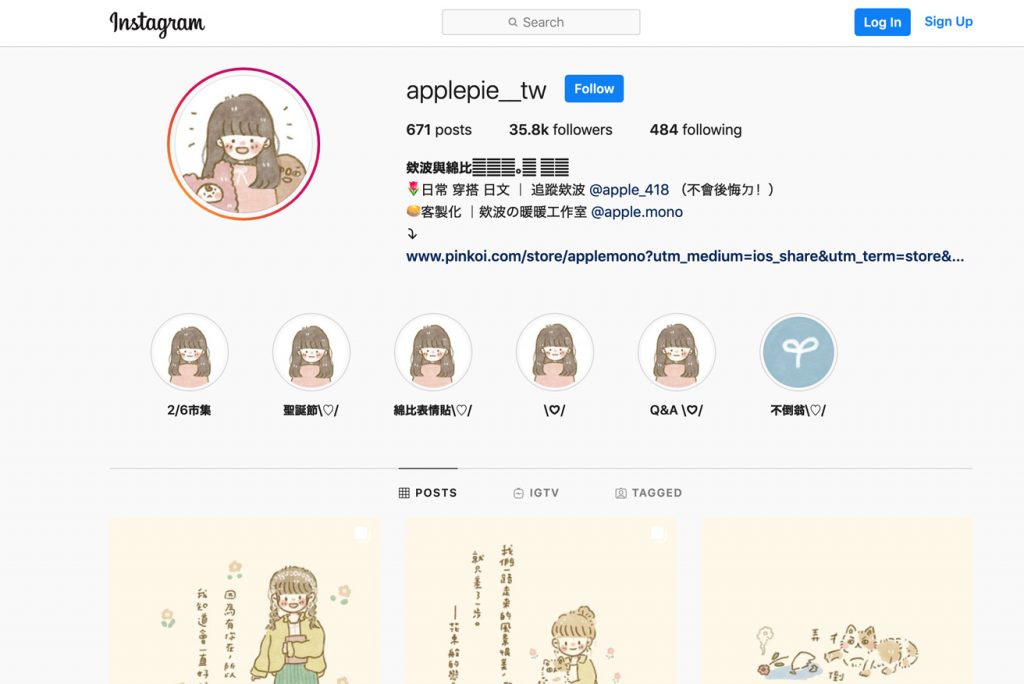 She also sells her own products on Pinkoi. She is a very independent and determined person, which is rare among young Taiwanese today.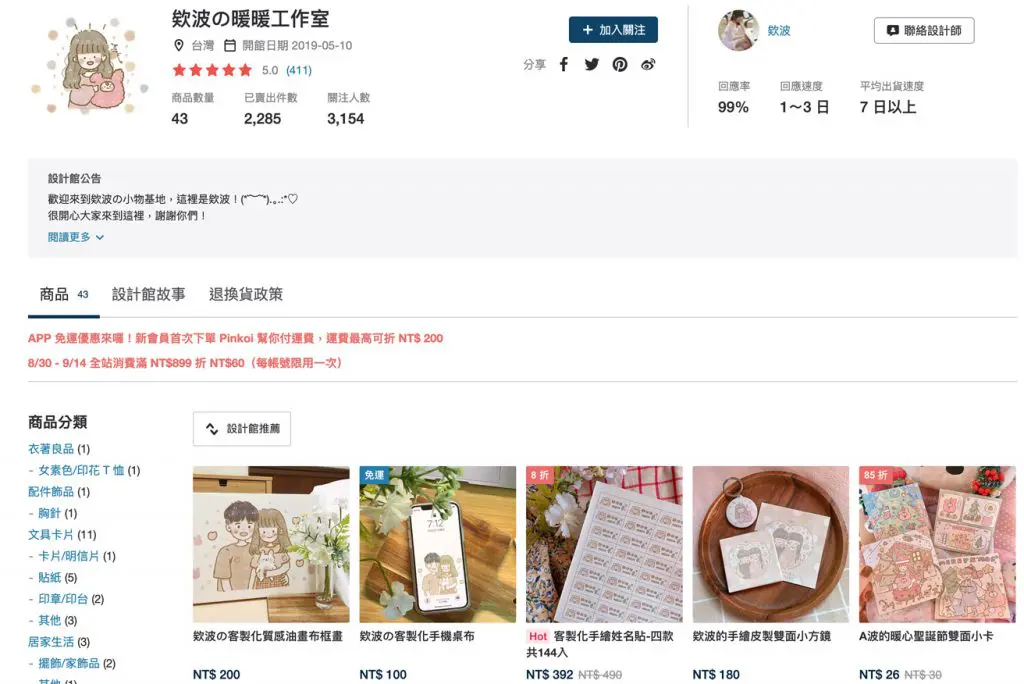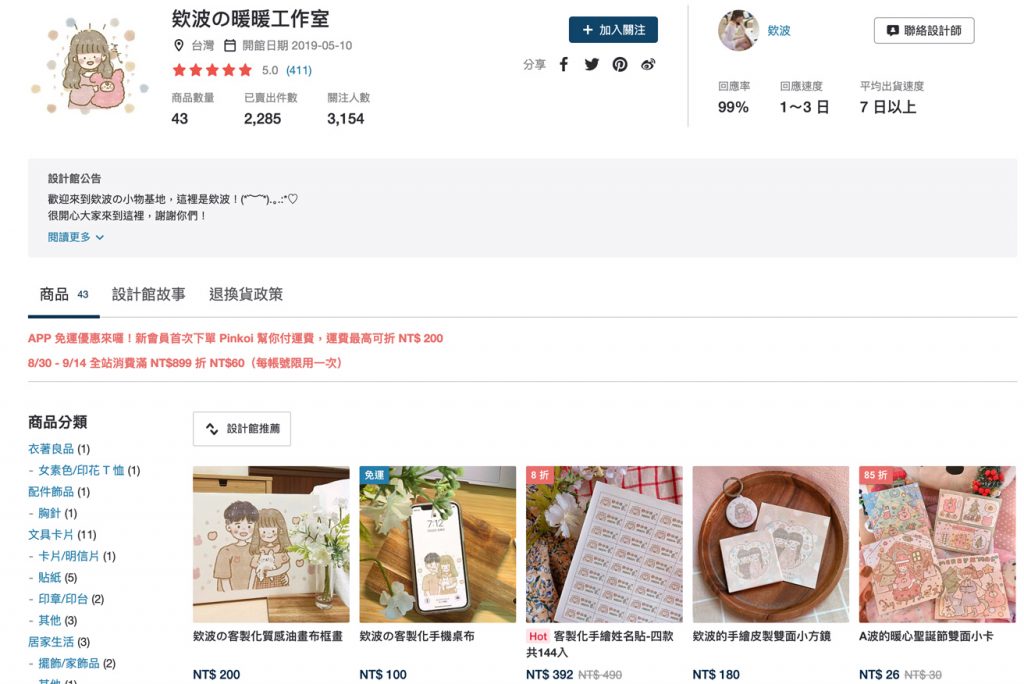 Unfortunately, after a month of working with applemint, she decided to leave applemint because she found it difficult to balance her time for illustration with a full-time job at applemint. But before she left, I asked Apple about the secret of how she increased her Instagram followers.
In this blog, I would like to talk about how Apple increased the number of followers on Instagram to 35,000 in Taiwan based on her actual experience. I would also like to talk about the benefits Apple had by increasing the number of Instagram followers.
In conclusion, what we need to do is to "engage" (interact) with our fans.
For those who are interested in her original blog, click here for the original Chinese text written by Apple. If you're seriously thinking about running an Instagram in Taiwan in the future, please take a look.
The rough start
Take a look at Apple's first illustration below! This drawing is the starting point of everything. Apple says this illustration still embarrasses her but this is where all her journey as an illustrator began.
Apple has loved drawing since she was a child, and often drew in her spare time. She had never studied drawing seriously, but when she was a sophomore in college, she came across a doll that she liked very much and started to draw pictures of it in order to create a fan page of the doll.
Apple didn't know how to start drawing at first, so she installed an app called sketchbook on her phone and started drawing.
She says she feels very embarrassed when she looks at her old illustrations now, but she still remembers the excitement she felt when she first posted her illustrations on Instagram.
At that time, she had roughly 400 followers on Instagram, mainly her friends. So she had only shown her illustrations to her friends back then but after posting a couple of illustrations, she suddenly thought, "This could turn into my career!" After that, she started to actively publish her illustrations to people other than her friends.
You can't start anything without showing your creations to people first
Next, I will talk about how Apple, someone with zero name recognition and now even a basic understanding of illustration, became famous.
Find creators and send them DM
To begin with, Apple decided to find other creators (illustrators), make a list of them, and send each of them DMs asking them to look at her drawings. Normally, you might think that it would be embarrassing for a very amateur creator to show their work to other creators. But, Apple put her pride aside and did it to raise her awareness.
However, since Apple's illustrations are of the cute type, she first approached creators who have similar style as hers, rather than just any illustrator.
What she she sent to the creators at the time was something like, "Nice to meet you, sorry for the sudden DM! My name is Apple. I've just recently started drawing illustrations, and I was wondering if you could take a look at some of my illustrations when you have time".
Surprisingly, most of the people who DM'd her back were kind enough to give Apple advice and some even offered her to do so in person. Some of the people she DM'd even followed her on Instagram too.
Unfortunately though, there were also some mean people who said things like, "You're wasting your time" or "No one would look at your illustrations". However, Apple didn't mind about those negative comments and responded kindly to them too.
At one point, Instagram mistook Apple's account for a spam account and locked the account because of the amount of DMs she sent on Instagram.
Instagram does ban your account pretty quickly if you use tools to send lots of DMs or like a lot of posts at once (speaking from my personal experience lol)
Though after a while of doing this she managed to gain 1000 followers.
The important thing is to be proactive
When Apple was in college, she met a girl who went to the same school as her and liked charity work. After talking to her, they hit it off, and one day, Apple and the girl joined an organization called "Syin-lu Social Welfare Foundation" that does charity work for the disabled. That was her first time to even hear about the foundation.
After participating in the charity, she wondered if there was any way she could help the foundation and decided to write a letter to them asking if she could use her artwork to raise awareness of the organization. After that, the foundation wrote back, and now, Apple is in charge of the covers of the magazines they publish!
I didn't know this, but Syin-lu Social Welfare Foundation is a very famous organization that supports the disabled, and even some celebrities support the activities of the foundation every month. After Apple started to illustrate for this organization, celebrities who support the foundation introduced Apple's work, which increased Apple's recognition and followers.
Looking at Apple's initiatives, it really makes me think how important taking action is.
The exposure to various media
Fortunately, a Facebook fan page with millions of followers called "Taiwan Talent Show" featured Apple's illustrations, and various Facebook pages in Taiwan and Hong Kong also introduced Apple's Instagram. In the meantime, the number of followers grew more and more.
In addition to this, Apple also contacted various media outlets by herself and actively asked them to feature her illustrations to further increase her exposure. As a result, she had opportunities to collaborate with various creators, and the number of followers kept increasing, and as the number of followers increased, so did the number of projects.
Persistence is the key
So far, you can see how Apple has increased the number of her Instagram followers by proactively approaching various people on her own. The next important point that Apple mentioned in increasing the number of followers on Instagram is continuity.
For example, if you don't continue to draw illustrations, your skills will not improve. If you don't improve your skills, no one will be interested in your illustrations even if you advertise them. Those who follow her would lose interest if she doesn't post anything too. So, Apple updates Instagram daily and responds to users' replies and comments.
I've been blogging every week for four years now since I started my business in 2017, no matter how busy I was. So I understand the importance of continuity. Unfortunately, about 90% of people don't have continuity and stop writing blogs after about a year. Some stop after 3 months.
Apple has been continuously drawing illustrations and running an Instagram account for a long time. I think that's the difference between those who get more followers and those who don't.
Failure, frustration and struggles
It might seem like everything has gone without any trouble so far, but of course Apple has had failures and setbacks. For example, now that she has over 30,000 followers, the growth rate of followers is clearly slowing down and Apple is not happy about that. Instagram's algorithms and trends have also changed.
Also, Apple once announced on Instagram that she is having an event at a cafe and told the cafe that over 100 fans would attend, but when she actually held the event, no fans showed up on the day. She was standing in the store all day long waiting for her fans, but only 1-2 of them showed up. In the end, Apple paid for the rental of the café that day, and felt very empty.
When I heard this story, it reminded me of time I DJ'd in front of 3 people…
But then in early 2021, Apple held an event with 6 other creators, and it was such a success that there was a line outside. And on that day alone, Apple's Instagram follower grew by another 400-500 people.
Summary
What did you think of her story? Before reading this blog, some of you may have thought that Apple used some kind of secret tool to gain 30,000 followers but there is no such thing. It took a lot of hard work and struggles to earn 30,000 followers.
Of course, if you spend money on advertising, the number of followers will increase to a certain extent. However, as I mentioned at the beginning of this article, the followers you gained through advertisement usually do not even respond to the posts at all.
If you take a look at Apple's Instagram, you will see that her posts get hundreds of likes every time. Sometimes, she even gets thousands of likes. She also posts instagram stories every day. This kind of diligent and consistent posting is a way to increase the number of high quality followers with high engagement rates.
I also think that Apple's Instagram management techniques have shown how important it is to be proactive. It doesn't matter if it's Instagram or any other SNS, no one knows who you are when you've just opened an account. So you need to approach people yourself.
Many Japanese companies, after entering the Taiwanese market, leave the management of their SNS to advertising agencies and have not seen any positive results. This is because many of them just post a few and spend money on advertising instead of sending DMs and replying to comments like Apple did. The reason for this is because it's simply too much work for the companies to do.
We at applemint want to change this situation, so we provide a high quality Instagram management service that allows you to actively interact with your fans and post continuously.
Our service is not cheap. In fact, it's probably considered expensive. But like Apple, we understand the importance of proactively approaching people and keeping them updated. So, applemint's Instagram operation is not just about posting.
If you are interested in applemint's service, click here for more information!
The last part of this article was a bit of an advertisement, but I hope that Apple's Instagram management techniques was helpful to you.
Click to contact applemint.