Happy New Year! I'm Kaori and I'm in charge of digital marketing for Japanese companies in Taiwan at applemint!
Now that 2022 started, a lot of you might be planing to do something new this year. EC malls are very useful when starting a new life!
When I moved in Taiwan a couple of months ago, I bought most of my furniture and daily necessities at a local EC mall in Taiwan and picked them up at a convenience store. It's really convenient!
I think many companies are considering EC business for Taiwan in anticipation of the pandemic to end. So, when you expand into Taiwan, opening an EC mall is probably the first thing to think about.
EC malls are well known and have a high usage rate amongst Taiwanese people. Therefore, people often think that they can start a e-commerce at a low cost. But the idea that EC malls are low-risk and low-cost is a bit risky… In fact, there are some unexpected pitfalls in Taiwan EC malls.
So in this blog, I want to tell you all about the current state of the EC business in Taiwan, the risks of EC business you should know, and other points to keep in mind when using EC malls!
This is coming from applemint's own experience of having supported many corss-border EC in Taiwan, so this is a must-see for any company thinking of expanding into Taiwan!
1. The latest data on the current state of Taiwan EC
Since 2020, Taiwan's EC market has been growing significantly due in part to the coronavirus. First, let's take a look at the current status of Taiwan EC based on the latest data.
The date of Taiwan EC (2020, the latest ver.)

Taiwan's Non-store Retail Business Market in 2020 grew by 12.3% compared to the previous year
No. 1 seller by product category is Home appliances and digital products
Non-store businesses include EC and vending machines, of which EC accounts for about 3/4.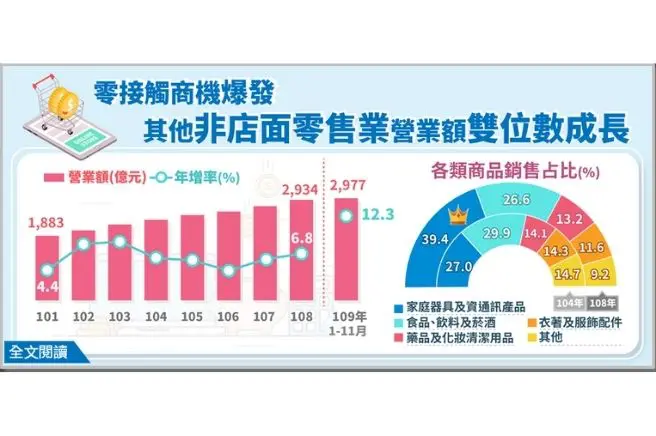 Source (published in 2021): Ministry of Economic Affairs, Statistics Department 產業經濟統計簡訊
According to the government statistics, the non-store business market will surpassed 320 billion NTD (approx. 11.6 billion USD) in 2020. This is the highest growth rate ever recorded. In addition to the coronavirus, mobile and SNS marketing have had a major impact on this growth.
In 2020, Taiwan's per capita EC purchases also grew significantly, with the average EC purchase per month increasing by approximately 556 NTD (over 20 USD)!
In particular, the amount of money that people over 56 purchased on EC platform increased by nearly NT$1,000, indicating that online shopping is becoming more familiar to people of all ages in Taiwan.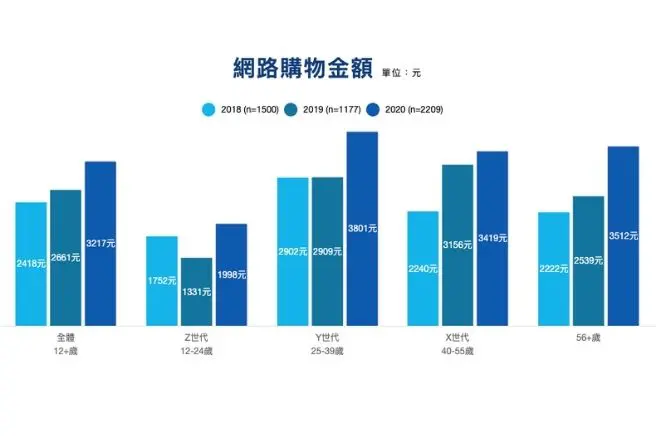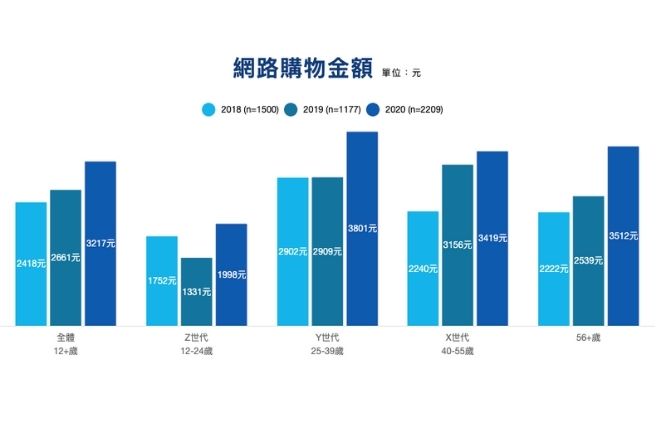 Source: 財團法人台灣網路資訊中心 2020 台灣網路報告
Taiwan is experiencing an unprecedented tailwind in the EC business! In addition, due to traveling restrictions, a lot of people have been missing traveling to foreign countries so this created a huge opportunity for the sale of foreign products through EC sites and EC malls
2. risks of EC business for Taiwan (tariffs and payment methods)
Although Taiwan EC is now an opportunity for many companies, there are some risks too. In particular, changes in the customs duties system (introduction of EZ WAY) and payment methods may be a hurdle.
In Taiwan, EZ WAY was introduced in May 2020 in which individuals who purchased products abroad are now required to declare what they purchased and how much they are. Prior to the introduction of EZ Way, Taiwanese buyers never really had to declare what they purchased abroad but now they do.
So how will this change Taiwanese people's behavior in terms of buying from foreign websites? There are two main effects.
Impact of the introduction of EZ WAY

Only the buyers who declared their goods through EZ WAY can receive products from overseas.

Tax-free purchases are limited to NT$2,000 or less, six times a year.
This means that the procedures for purchasing overseas goods have become more complicated.
Here is the EZ WAY screen for your reference. It looks pretty tedious, doesn't it? I tried to register with EZ WAY last week, but the process was even more complicated for non-Taiwanese citizens, so I eventually gave up on the purchase itself…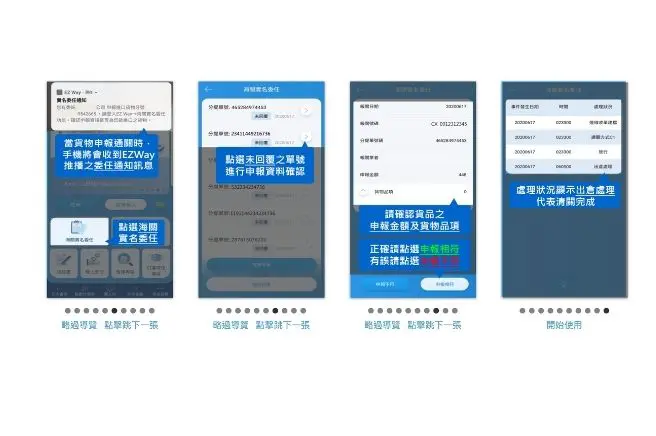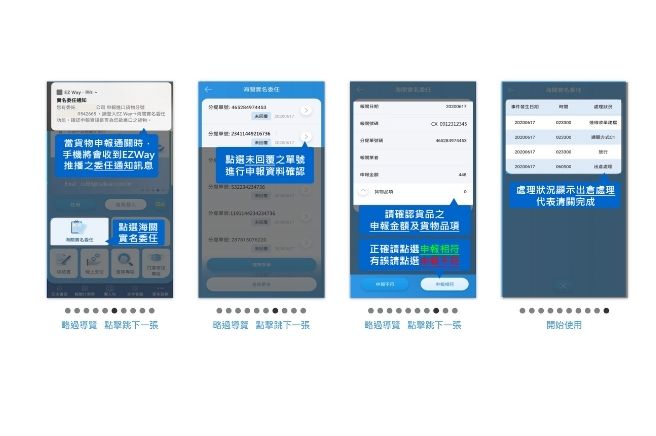 There are also other risks associated with foreign EC website; they do not support local payment methods. Of the total sales of non-store based businesses in Taiwan, 30% are paid by means other than credit cards which means some Taiwanese people prefer paying methods other than credit card.
It is difficult for foreign companies that do not have a local subsidiary in Taiwan to provide variety of purchase methods to the Taiwanese.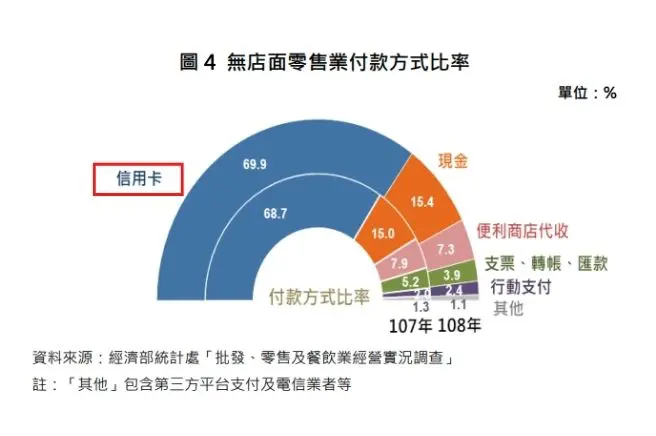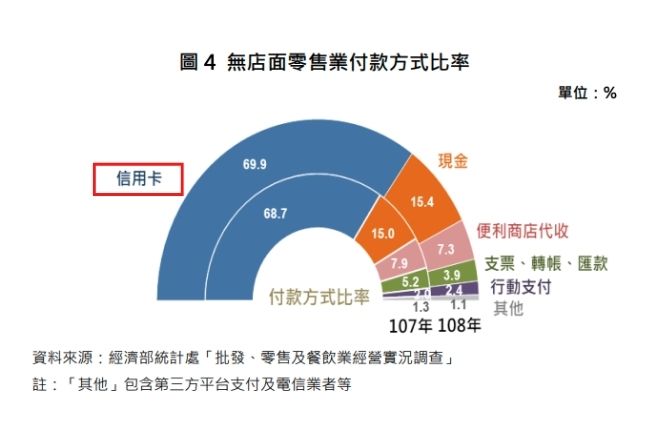 Source: 財團法人台灣網路資訊中心 2020 台灣網路報告
However, credit cards and LINE pay are becoming more and more popular in Taiwan. Taiwanese people might not feel too inconvenient to use credit card when they make a cross-border purchase in the future.
3. points to note when opening a store in EC mall in Taiwan
Considering the cross-border e-commerce risk mentioned, your next option is to open a store in EC mall. Except for large companies, opening a store in EC mall seems to be the most financial way to start.
EC malls do not require you to prepare your own website, and generally speaking, you can start with a low budget. However, it is dangerous to consider an EC mall just because of its low budget. There are 3 reasons for this.
3 disadvantages of opening a store in EC mall

If you want to open a store in a popular local e-commerce mall in Taiwan, you need to prepare a professional administrator who can speak Chinese.

In some cases, you may end up needing to establish a local corporation in order to register with the local EC mall.

You will not be able to conduct marketing that takes advantage of your company's strengths.
Let me explain in detail. First of all, unfortunately, the world's well-known cross-border mall, Amazon, has not expanded into Taiwan. Therefore, most Taiwanese e-commerce mall users use local e-commerce malls such as "PChome" or "Yahoo Shopping".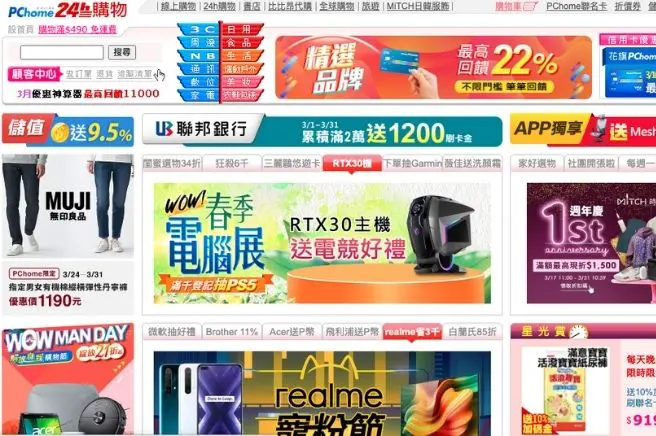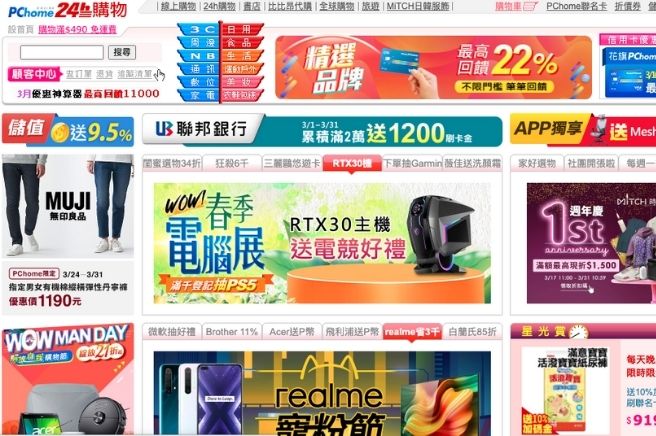 ②Supported by every Genration! Yahoo Shopping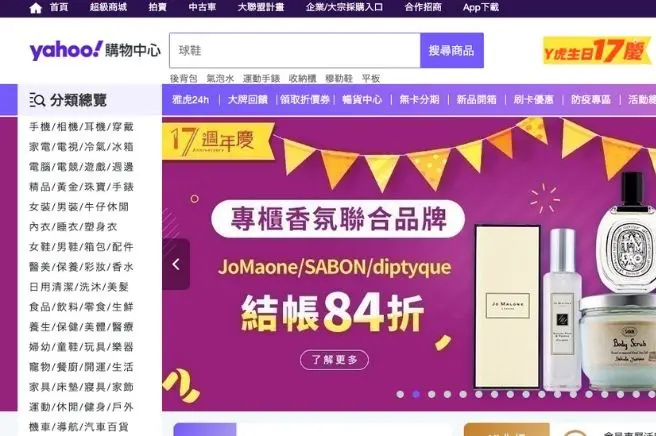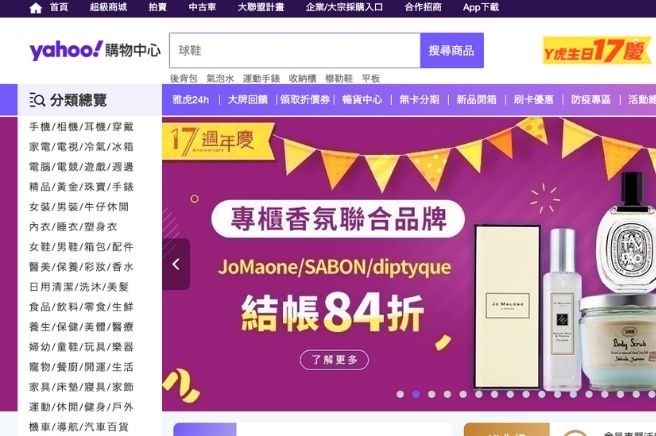 Taiwan's local EC malls are the most popular without a doubt, but all store registration must be done in Chinese. In addition, if you are planning to manage your site and deal with customers in the future, you may need to prepare a professional administrator who can speak Chinese.
What's more complicated is that in some cases, you may need to establish a local subsidiary in order to open a store in a major local EC mall as a company!
For your reference, I will show you the registration screen for opening a store on PChome and Yahoo Shopping. Both sites require you register a tax ID number.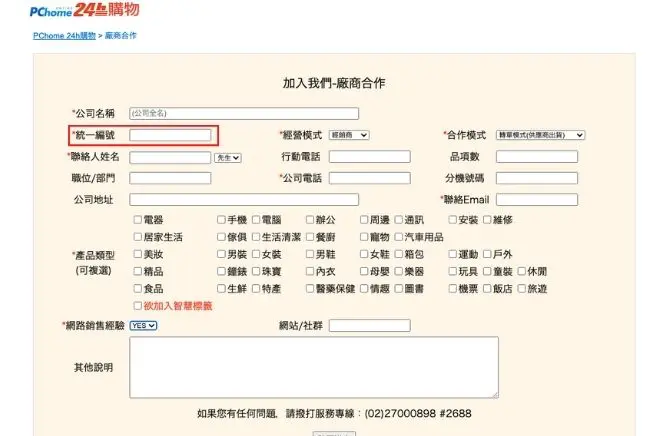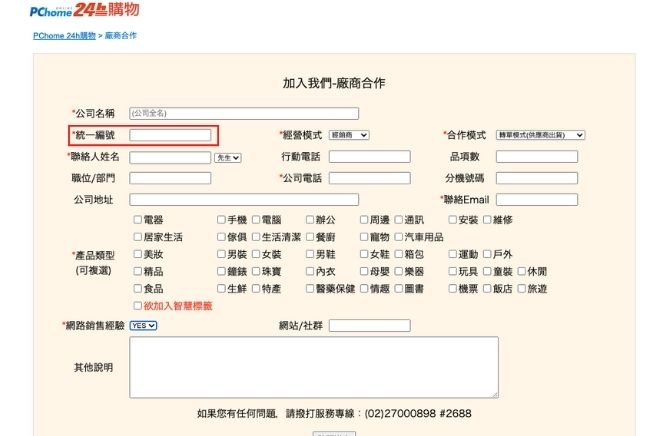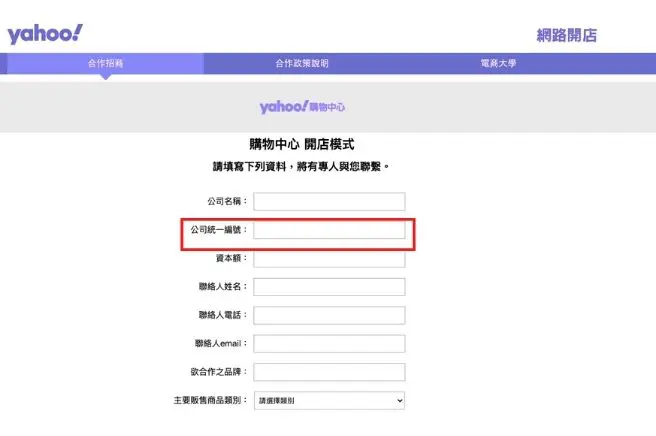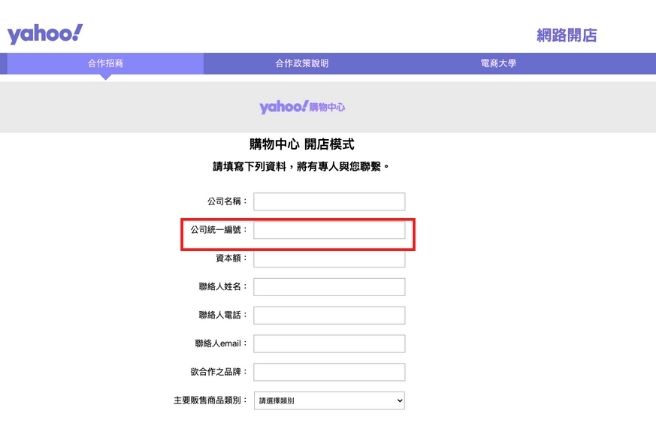 The only way to obtain this "tax ID number" is by establishing a local Taiwanese company. However, setting up a local company can be quite difficult, as it requires a lot of paperwork to be filed with the Taiwanese government (in Chinese, of course), as well as preparation of working capital and personnel.
A tax ID number is an ID number given to a company when it is registered for incorporation in Taiwan. You can also ask a local agency to do it for you without registering, but it will cost you more fees….
Source: 日本台湾交流協会 統一発票および統一番号について
If you use an EC mall, you will have a lot of competition, and since it is not your own website, you will not be able to customize your website or analyze customer trends for marketing. In other words, no matter how attractive your products are, you cannot promote them using your strengths, and there is a risk that they will not lead to sales.
Also, even if you open a store in an e-commerce mall, if you do nothing, you will not be found until you are searched. Also, since the pages of an e-commerce mall are not a place to build a brand image, it is easy to get caught up in price competition.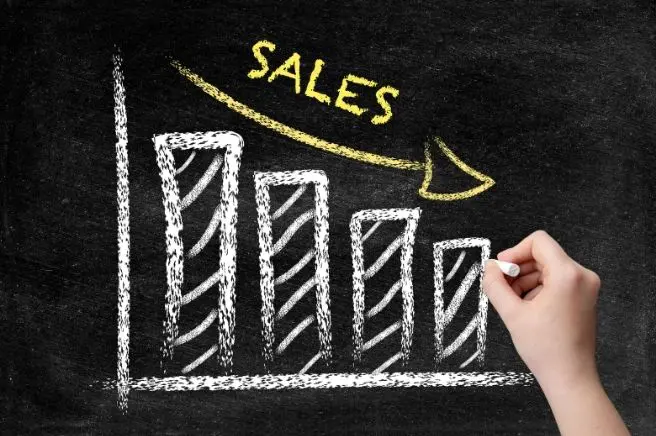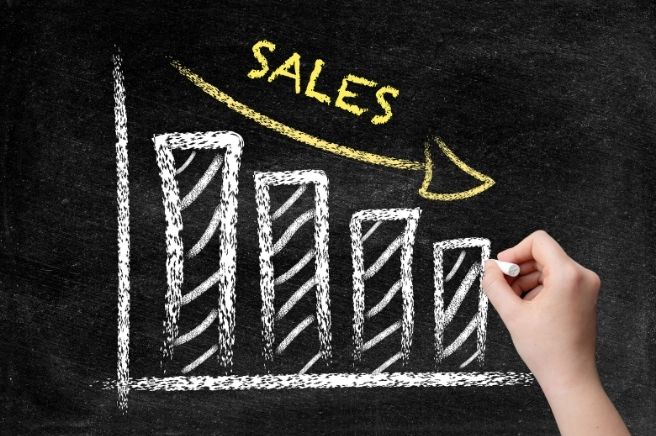 4. Summary
Finally, let's summarize the advantages and disadvantages of opening a store in Taiwanese EC mall.

If you ask for help from an expert to open an EC mall, it will cost you at least 1300 USD.
After considering these disadvantages, if you are still interested in opening a store in a Taiwanese e-commerce mall, please contact applemint here! We'll use our experience in cross-border EC business for Taiwan to help you!
Click to contact applemint.