Hello, I'm Leo Sato (@slamdunk772), the CEO of applemint, a digital marketing agency in Taiwan!
Recently, I've been listening to Norah Jones on YouTube to relax.
But just when I'm enjoying it, the music suddenly stops and Youtube advertisement starts in relatively higher volume… It's not very pleasant, is it?
In a survey by Macromill, about 61% of users said they were annoyed with video ads, which is understandable since YouTube ads appear suddenly and force users to view them. But some companies in Taiwan have successfully made users view their Youtube ads and made positive impact.
In this article, I'd like to talk about the basics of Youtube advertising in Taiwan for beginners!
"Can I expect to get new customers with Youtube ads?"
"Do you have any tips on Youtube marketing?"
"How did the competitors succeed?"
I'll be answering to real questions like these so If you don't know what to do with YouTube ads, this blog will certainly help you.
I've also picked up a few useful YouTube contents examples, so I hope they'll be helpful for your content planning and production!
Contents are very important in YouTube ads compared to other media.
The Two Advertising Formats that represent YOUTUBE Advertising
As a starting point, let's take a look at the two basic ad formats.
If you're just starting out with YouTube advertising, it's easy to get confused about ad formats.
Bumper Ads
This is an effective ad format for increasing awareness and specializes in spreading the word cheaply and widely.
It is a 6-second ad that plays before, during, or after the video and cannot be skipped.
The billing method is CPM (Cost per Mile), which means you pay for 1000 times the ad is displayed.
The content is all about impact.
If you can make the user ask, "What is this?" after the ad, then your ad is a success.
According to Google's research results, the following conditions are effective.
Logo exposure of 3 seconds or less
7 to 8 impressions per person
TrueView In-Stream Ads
This is an effective advertising format for creating potential customers and is specialized for product education.
It plays before, during, and after the video, and can be skipped after 5 seconds.
The billing method is CPV (Cost per View), and the cost is incurred when the video is viewed. The definitions of "view" are as follows:
watch for more than 30 seconds
click the ad during the video
complete watching the video
It is said that product education is recommended for content. These are the key points of the in-stream ads:
1) Grab the viewer's attention in 5 seconds
2) Talk about the conclusion in 6 to 15 seconds
3) After 15 seconds, include more detailed information for users who have already viewed the content.
By the way, it is said that YouTube ads are more effective for the top of the purchase funnel and less effective for the bottom of the funnel.
For this reason, I don't recommend using YouTube ads for "purchase" purposes.
Measuring Brand Effectiveness (Brand Lift Survey)
Brand awareness and brand favorability can be measured by conducting actual interviews. Have you seen a survey screen like the one below when watching YouTube?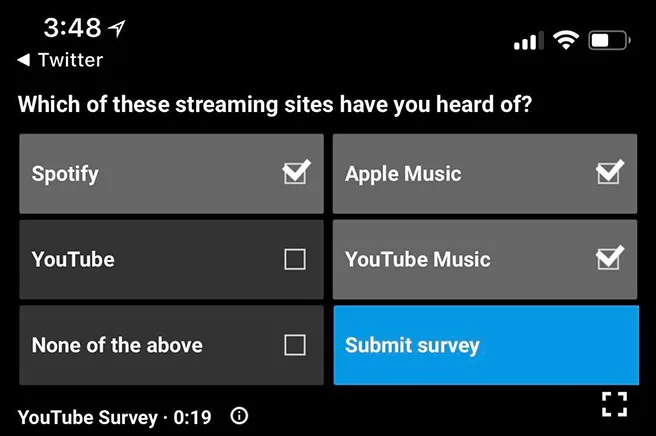 We may view the performance of this survey in the Google ads management screen as below: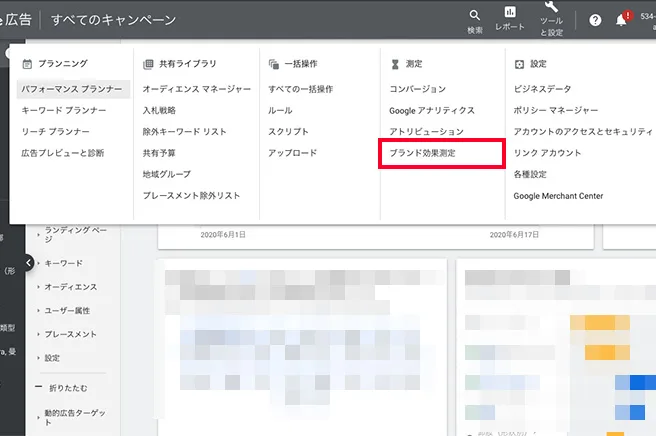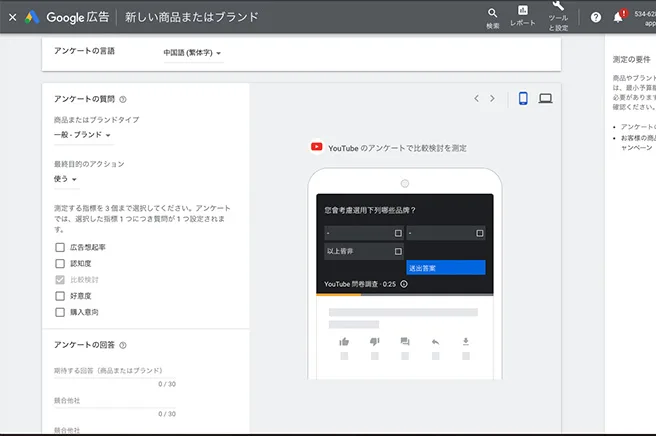 Be aware that there are several conditions to conduct this survey for Youtube. The conditions may be challenging for small and medium-sized companies.
Facebook, on the other hand, lifted the budget restriction at the same time as it released the Brand Lift Survey to the public.
Facebook shifted to using statistical estimates to calculate the results, making the service equally accessible to businesses of any size.
If your budget allows, this is a feature you should definitely take advantage of one day.
3tips: How to Prepare for a Video Content and What Not to do
Here are 3 things to keep in mind when creating videos suitable for YouTube advertising.
Tip #1. Don't use the same video over and over
Needless to say, quality is important in YouTube advertising. Sometimes, we see advertisers reusing videos that are already available on YouTube as well as Facebook.
Using the same video for Facebook and Youtube may save you money, but it makes an overwhelming difference in the results, and I do not recommend you to do this.
Just because you have a video, doesn't mean you can achieve a high performance on Youtube Ads. I've seen advertisers who requested an influencer to shoot a video for Facebook ads and later they re-used the video for Youtube.
The purpose of Youtube ads and Facebook ads is different. Therefore, I would recommend you to start with the goal of creating and distributing videos on YouTube in order to "increase awareness" and "increase brand favorability.
Tip #2. Don't aim to introduce your services, products, or brand.
It is very understandable that you want to introduce your brand or products.
"I want to show you the advantages of our product!"
"I want to introduce the story of our CEO"
and etc.
I fully understand your love for your brand. But ask yourself, "Do viewers care?"
This is not limited to YouTube ads, but it is important to create a motivation for consumers to research the product on their own because advertisement is annoying in general.
Tip #3. Pitch your product in 5 seconds
As mentioned earlier, bumper ads are skipped in 6 seconds and TrueView in 5 seconds.
In other words, the first five seconds are very important.
As mentioned in the explanation of bumper ads, you want to show the logo once within the first three seconds and include elements that will attract viewers strongly within five seconds.
On the other hand, if you concentrate too much on doing something interesting during the 5 seconds, then the users would not know what the ad is about.
In Taiwan, we often see this pattern in advertisements featuring YouTubers and singers.
In Taiwan, we often see this pattern in advertisements featuring YouTubers and singers, where the first five seconds of the advertisement ends with the influencers saying their own introduction that is completely irrelevant to the content.
It's a waste of those precious first five seconds, so be careful!
Successful cases
Here are some examples from YouTube in Taiwan that I thought were good. If you have any doubts about the structure of your video, it is a good idea to look for good examples and try to imitate them.
(1) Six seconds in the blink of an eye
I was particularly impressed by the dynamic use of video and audio in this advertisement.
I referred to many video examples for my research, but this video left a particularly strong impression on me.
As I said, bumper ads are all about impact, and this video is exactly what I imagine bumper ads to be!
2) Inducing customers with eye-catching benefits
This is a company that sells fairly ordinary mattresses, but it has succeeded in attracting visual attention by offering a special pillow as a bonus.
I think another key point is that it is hard to get bored with the overall speed at which the viewpoint moves and the text cards are displayed.
3) Campaign trailer with a storyline
Lastly, I would like to introduce three slightly more advanced story-based campaign trailers.
The first preview arouses interest, the second reveals the long-awaited contents, and the last repeats the campaign to make an impression.
I think this three-part structure can be easily applied to large-scale campaigns and sales announcements.
Companies that would benefit from YOUTUBE advertising
Finally, I thought about companies that I personally think would be good fit for YouTube ads.
UNIQLO
The reason I mentioned UNIQLO is because they have regular sales such as Thanksgiving.
If they have frequent sales and just want to announce that they are having a sale, 5 seconds is enough.
In addition, discount information is useful for consumers, and not many people dislike it.
Frequently used consumer goods (toilet paper, cereal, milk, etc.)
For consumer goods that are purchased frequently, brand recall is the key.
For example, let's say you go to a supermarket and see three different types of cereal in a similar price range. Then, you would probably reach for the brand you know.
In other words, I believe that the probability of being selected can be increased by regular contact with users on YouTube.
When it comes to cosmetics, the frequency of purchase is only once every few months. So it would be nice if customers remember your brand like: "Oh, I remember that brand. Maybe I'll try it!"
Conclusion

So far, we've covered the basics of YouTube advertising and video content
Let's review the main points
(1) There are two types of YouTube ads: bumper ads and TrueView ads.
 Bumper ads are 6 seconds long and unskippable.
 TrueView ads are skippable after 5 seconds 
 Brand awareness survey is recommended if your budget is more than 350,000 RMB for 7 days.
(2) Video content should:
 not use the same video for different purposes
 not aim to introduce the product or brand
 not use the same video for different purposes. 
The last thing I want to tell you is that it takes a lot of money and time to seriously implement YouTube advertising.
It costs a lot of money to create high quality content. You will also need to constantly revise your content depending on the results after you start.
In addition to that, brand awareness and sensitivity cannot be improved by having your ad viewed a few times. You just need to keep at it steadily and steadily!
From an agency's point of view, this may seem like a "lucrative menu" where costs are digested very quickly, but I hope you will be very careful not to fall for this sweet offer!
Click here to contact us for effective advertising management.
Click to contact applemint.