Hello, I'm Leo Sato (@slamdunk772), the CEO of applemint, a digital marketing agency in Taiwan!
We have been helping clients penetrate into Taiwanese market through digital marketing on platforms such as Facebook, Google, Instagram, LINE and Yahoo.
One common thing every client is looking for is "conversions" and in Taiwan, influencer / Key Opinion Leader promotion is the first thing every ad agency recommend to do, just like in the US and other countries.
However, after using dozens of KOL for digital marketing, there is something I came to realize; that using KOL/influencers is extremely risky to some companies and that for those companies, avoiding KOL/influencers is actually the shortcut to success.
It is undeniable that using KOL does have somewhat positive effect on CV. However, I began to think little use of KOL wouldn't help a company raise awareness, let alone CV.
So, in this blog, I am going to explain the current situation and costs of influencer marketing in Taiwan. Furthermore, I will also go into how long the effect of influencer marketing lasts and for how long you should ask influencers to advertise your products.
If you are interested, the blog below summarizes Taiwanese influencers.
1. Increase in micro-influencers
Have you heard of a website called KOL Radar? This website allows you to find a suitable influencer for you according to the product you want to advertise and the media for which you want to advertise on.
For example, if you'w like to advertise cosmetics on Facebook, you can select 『美妝』and 『Facebook』as shown below. (As of 2020 September, this function is only available for registered users.)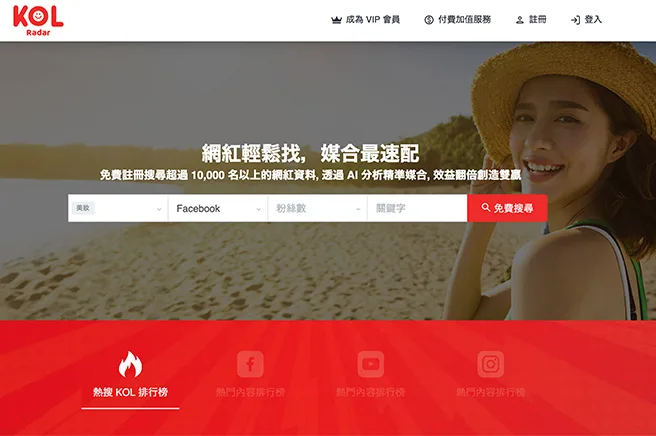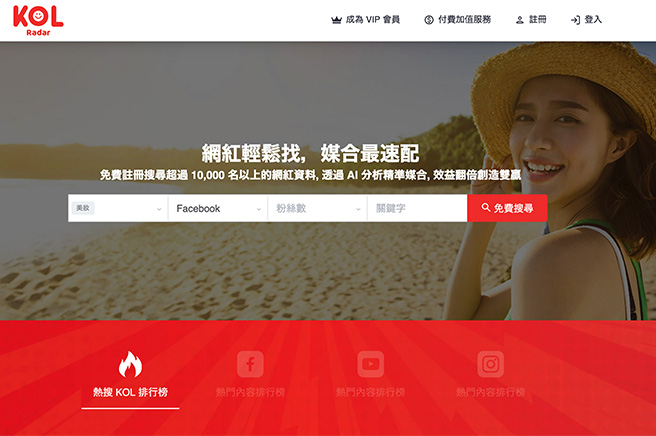 if you click on『免費搜尋 (search for free)』, it will ask you to signup first. The influencers below are the top 3 search results with the keywords, 『美妝』and『Facebook』(As of 2019 September). If you scroll down, you will find influencers that only have 2000-3000 followers.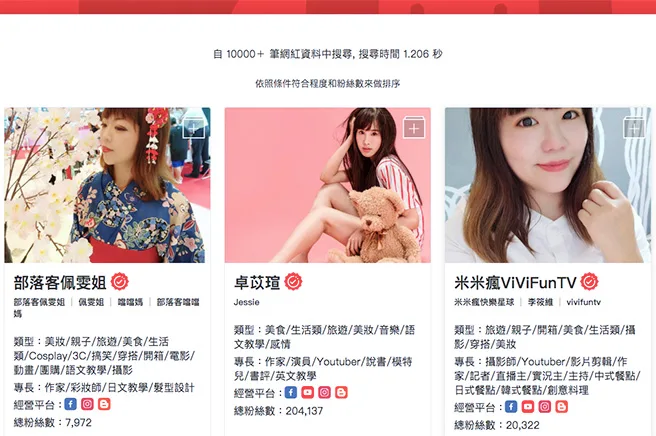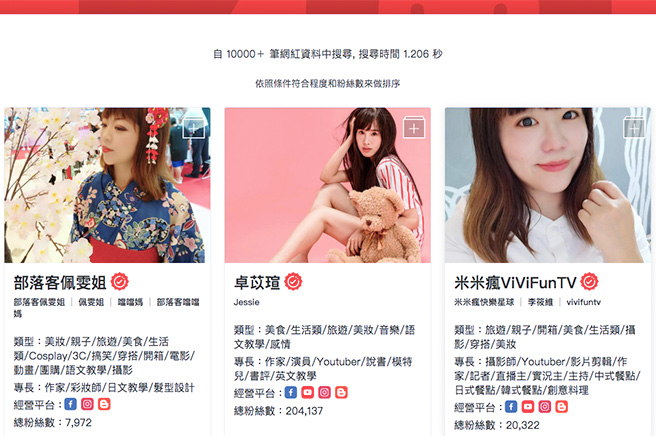 Would you actually call these people KOL or someone who has influence on others?
It isn't bad to use micro-influencers but not only is their power of influence questionable, they are often bad at introducing products. Moreover, some of these influencers only promote the products on their fan page on Facebook. 「艾波」, an influencer who was ranked top 5 on the KOL radar is the example of a stereotypical influencer I just described here.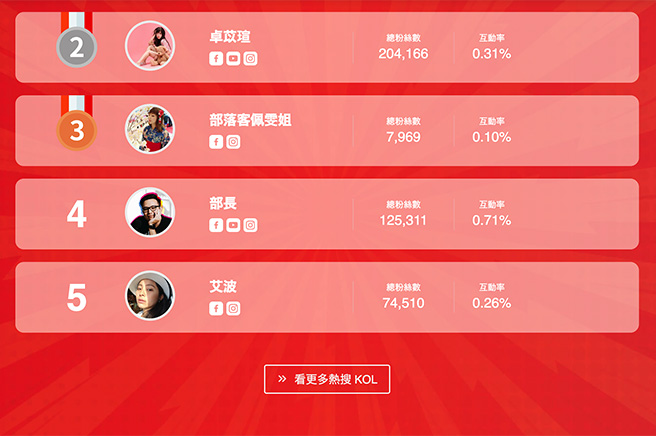 You'll see if you check her page out but she only posted ads for products that it was not interesting at all as a fan page and the engagement rate was so low that almost nobody liked or left a comment to her posts.
2. price
Using YouTubers and KOL as a marketing strategy is becoming increasingly popular in Taiwan. However, as the popularity rises, so does the price. Especially for YouTubers, the commissions of advertising and management agencies who hold YouTubers are very high.
A YouTuber we inquired for our ad in 2020 summer The person had 1.42million followers on Facebook and 267,000 subscribers on Youtube. The YouTuber charged 150,000 NTD (approx. 5,000 USD) for a still image Facebook post, 400,000NTD approx. 13,000 USD), and over 600,000NTD (approx. 20,000) USD for a YouTube post.
When I saw these prices I thought. Is it really necessary to pay this much amount to reach the target CVs of the advertisers?
If you need to make profit from a single influencer promotion, always consider how many conversions you will need.
Let's say your product is worth 30 USD, you will need 167 conversions from a single Facebook post, 434 conversions from a video post and 667 conversions from a Youtube video.
How long does does the promotion effect last?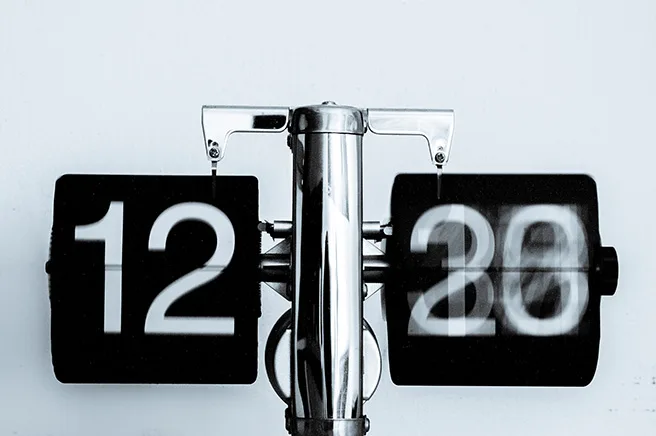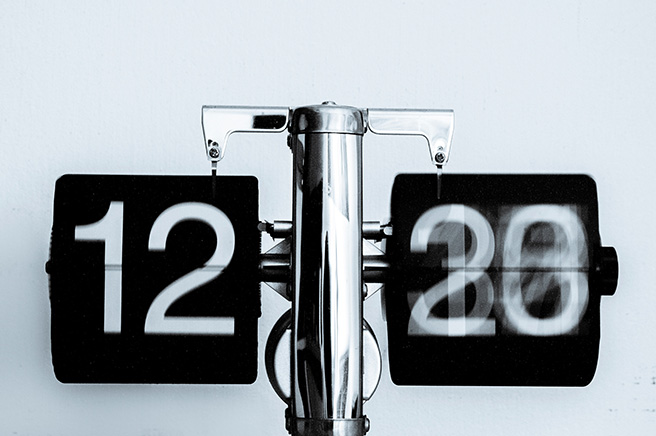 There are mainly 3 ways to use Taiwanese influencers for your promotion:
1. Facebook/Instagram post (once)
2. Facebook/Instagram post (post once but continue to expose the post through Facebook ads.
3. Youtube video (once)
If you choose #1 or #3, your chance of getting conversions is usually limited to the day your influencer posts on facebook/youtube to one day after posted.
#2 means to use the text of the post for secondary use and advertise it multiple times. Influencers usually allow advertisers to continue using the post as Facebook ads for about 2 weeks with approximately 1/3 of price of a single post.
We usually suggest #2. because it prolongs the effect of the influencers. Let me show you an example.
Below is a graph of traffic against time of a client who did not implement secondary use of the influencer's post.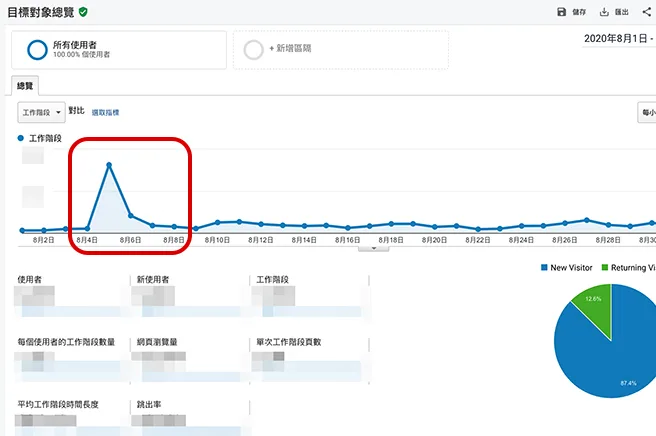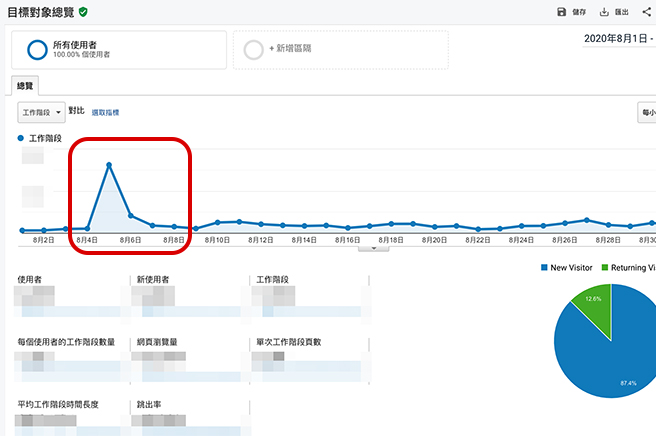 You can see that although the traffic dramatically increases on the day the post was made, but it rapidly declines and returns to normal after three days. Next, please take a look at the same graph but this time, the post/text was used again secondarily.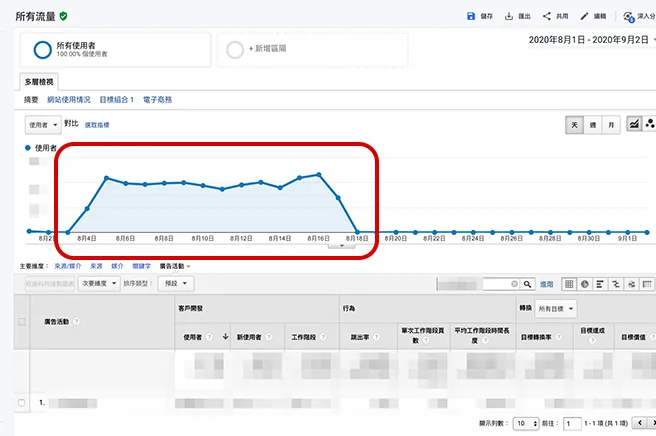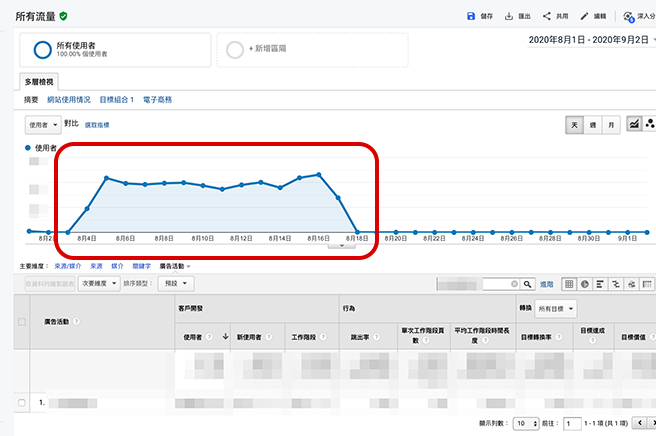 As you can see very clearly, the effect of the post lasts way longer (although it does cost extra advertising fees). What's important is that users that was trafficked from KOL/infleuncer's posts have high CVR.
At applemint, we do not use KOL who doesn't allow secondary use of their post. This is because a single Facebook post would only reach users who already follow the KOL, and the effect of the post dies within just 2-3 days.
You not only get more CVs, but also get CVs efficiently. However, there is one thing you need to be cautious about: if the 1st post fails to acquire any conversions, it is likely that you will not get any CVs even if you advertise for secondary use.
Lastly, I would like explain how many days you should spend on doing secondary use.
As you may imagine, if you continue to see the same ad everyday, users would get annoyed.
As a result, the effect of post ads declines over time.
Here is a graph we acquired from using 1o Taiwanese influencers. It visualizes conversions the number of CV from each influencer over the course of 24 days of advertising.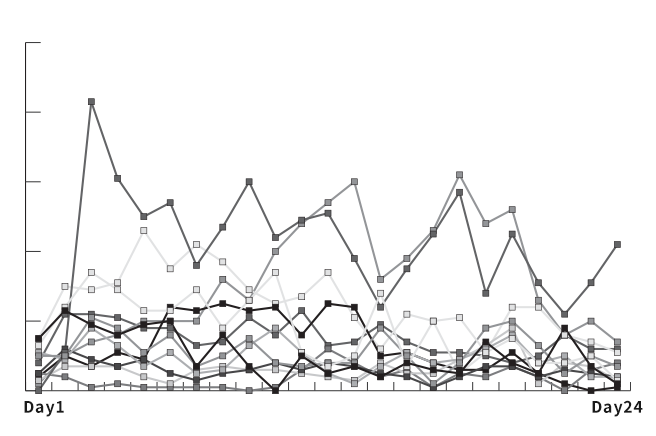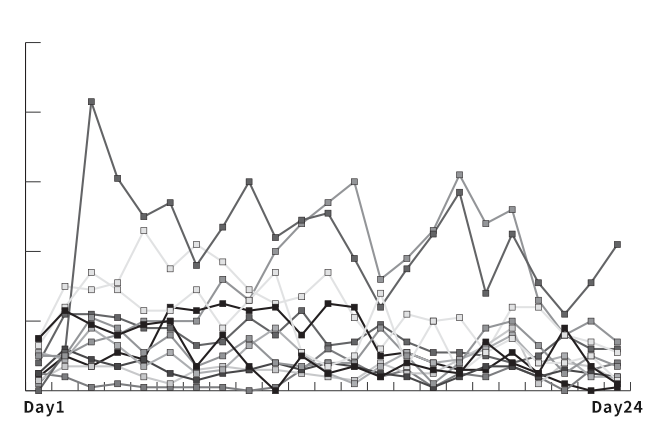 I know… It's difficult to understand this messy graph. The graphs shows that although number of CVs do fluctuate day by day, it does not necessarily decline over time. This means an effective KOL/influencer gets you CV even after 24 days.
However, in my experience, if you extend the advertising period using KOL/influencer to 30 days, the number does start to decline, no matter how effective the influencer is.

Therefore, if you were to do secondary use of an influencer's post, doing it for 2weeks to 1 months is the best. If you have any questions with the procedures for secondary use of Facebook post, let us know!
How to choose influencer/KOL: the relationship between number of followers and cv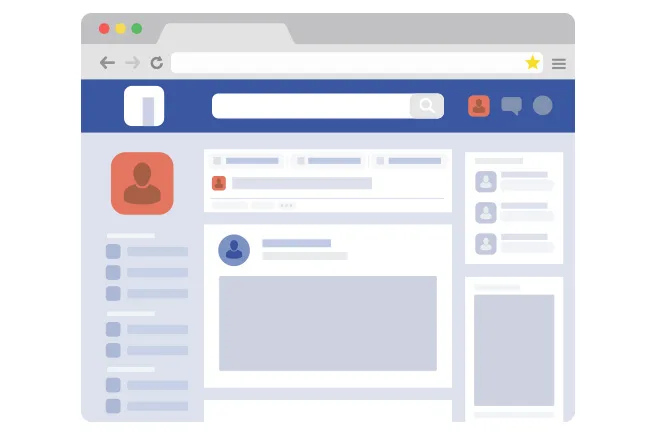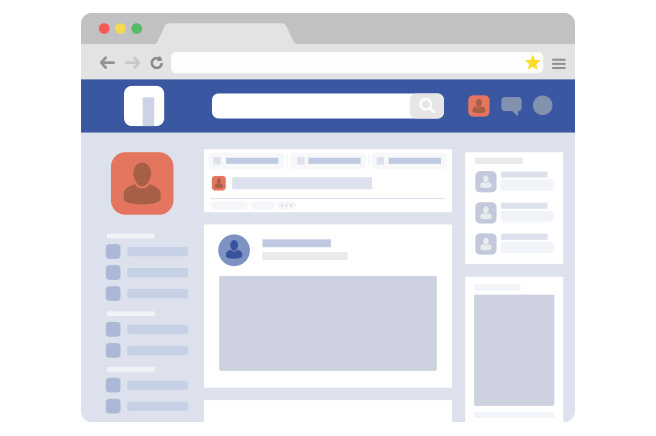 You may be interested in influencer/KOL after all. But how should you select your influencer/KOL?
A lot of advertisers believe that KOL/influencers with more followers would get you more CV. However, to test if this really is the case, we took 11 influencers as our sample and checked the correlation between the number of CVs and the number followers using CORREL function on excel. Below is the details of the sample.
Sample number of KOL: 11
Average number of followers: 195,800 (median:145,000)
Average number of CVs: 253 (media 241)
Period: 24 days
product: cosmetic
As a result, the correlation coefficient between the number of followers and the number of CV was only 0.4038. Of course, I could be biased and purposefully select a sample so that the correlation would be low so it's up to you how you want to interpret this information.

So at the end of the day, I believe that it's impossible to predict the number of CVs you would get from a KOL until you actually do it. However, at applemint, we score various influencer's posts and perform regression analysis on them. Furthermore, we now already have developed some solid hypotheses on how to choose influencers that won't fail. If you are interested, please click here to contact us.
How applemint is going to work with influencers in Taiwan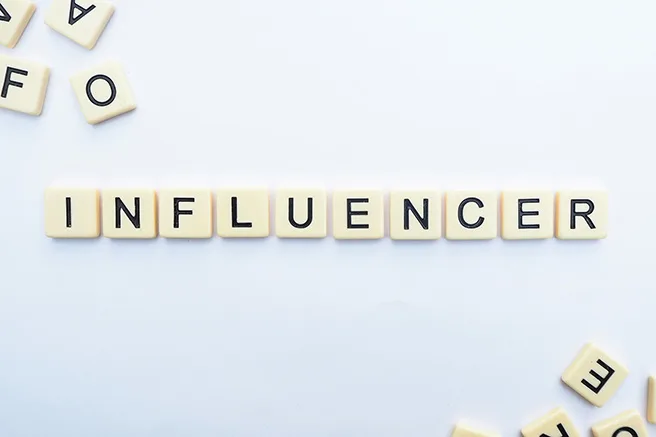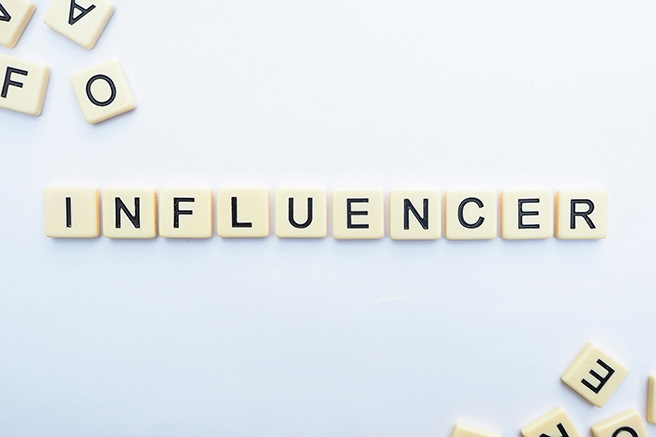 So what we should in Taiwan where micro-influencers are rapidly increasing, the price of hiring KOL is becoming higher than ever, and the correlation between the number of followers and the number of CV is low? There are some things I noticed after analyzing all the negative aspects of influencer marketing.
Firstly, you do get some CVs if you use KOL/influencers. However, the number of CVs you would get is unpredictable until they actually post. Furthermore, an effective KOL/influencer would continue to gain CV when doing secondary use even 2 or 3 weeks after posting.
In conclusion, I do not recommend KOL/influencer marketing for advertisers of small to medium sized companies who wish to cautiously enter the Taiwanese market. Why? Because using KOL/influencers can be a risk. They might need to try with 3-4 influencers until they can find an effective influencer suitable for their product.
Large firms and companies with huge advertisement budget may try influencer marketing. However, once you use it, it is very likely that the CV rate significantly drops when you don't, negatively affecting the sales and causing the firm to be entirely dependent on KOL/influencers.
A case study of CPTN Hook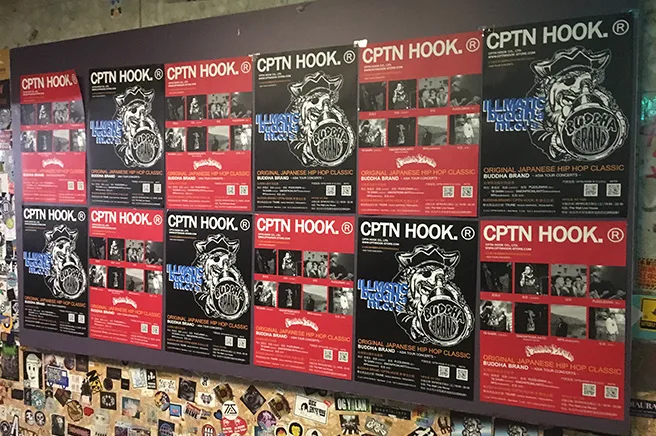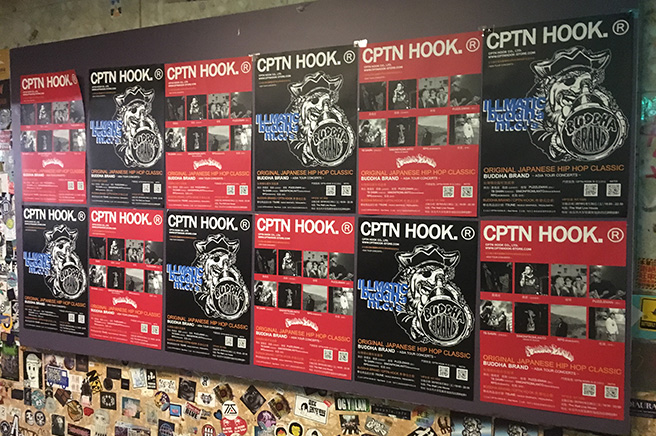 applemint believes now is the time to do digital marketing with solid strategy and logic. The main reason why advertisers use KOL is because they want to increase sales. Especially for DtoC companies who often value visualizing cost performance, they tend to focus more on marketing that has a great effect on the CV rate.
In other words, as long as the ad brings CV and the cost performance is good, it doesn't necessarily have to be influencer marketing. So what are some alternatives to influencer marketing that companies in Taiwan can use?
I would like to introduce an example of a successful marketing strategy that I helped with.
An hiphop apparel brand called CPTN Hook was hosting an event to celebrate the brand's 6th year anniversary. 6 rappers, including a very famous rapper in Japan called "Buddha Band" came and performed in the event. The rappers were all wearing the CPTN Hook shirts and showed their gratitude towards CPTN Hook on the stage.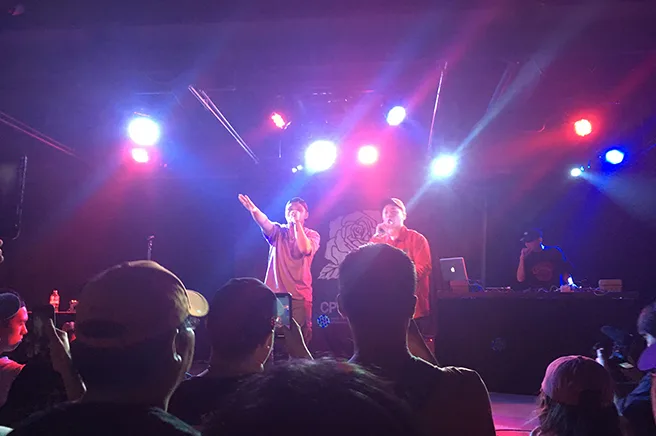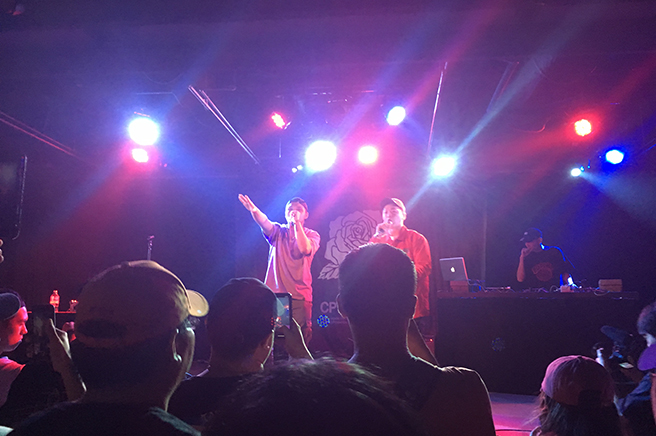 "It's extremely difficult for rappers to make money. Support from brands like CPTN Hook is really helping us a lot." "Thanks to CPTN Hook, I was finally able to perform at The Wall (One of the biggest live house in Taipei)"
Hearing these from rappers, the customers ran to the pop up store of CPTN Hook at the event venue after the live performance.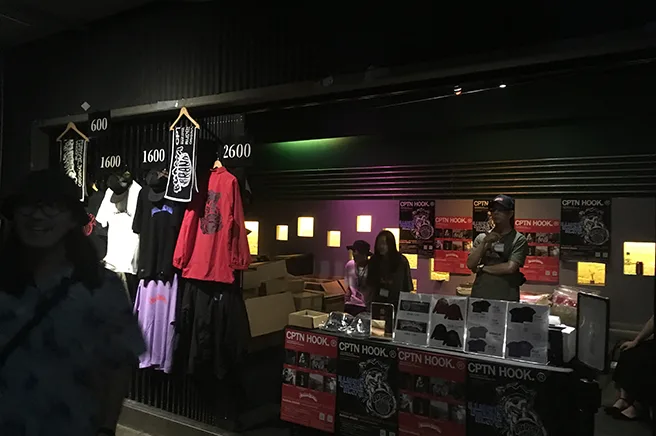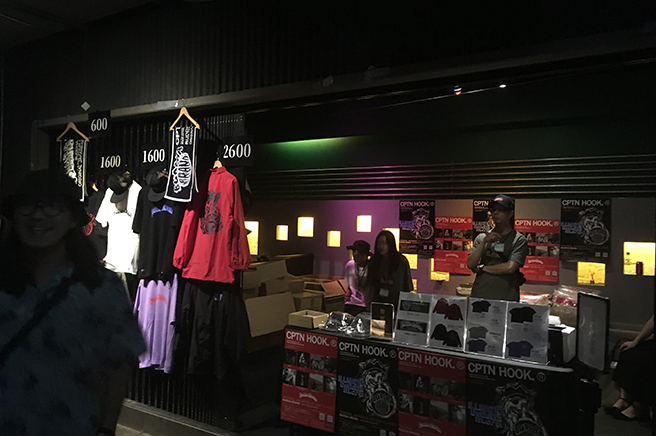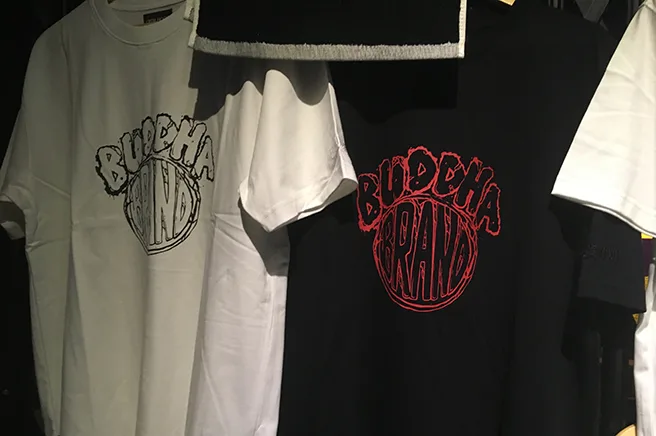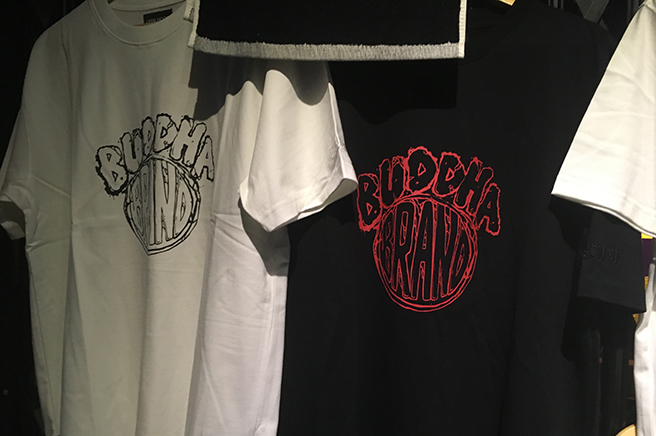 I do not exactly know the cost of holding this event but when I had a chance to talk to the CEO of CPTN Hook, they implied that it was about 30-40 NTD (11,000-15,000 USD) including the cost of the venue, the transportation fees of the Buddha brand, and performance fees for rappers. This is equivalent to the cost of a YouTuber posting one video.
Considering the price and numbers of tickets sold, they lost 50,000-100,000NTD. Adding up the sales from the pop up store, I predict that they did not make money from this event but didn't lose any either. Moreover, they were able to provide "live experience" to customers.
I am very hopeful in this strategy of combining events and sales. Now, instead of blindly using KOL for the purpose of increasing sales in Taiwan, I think we need to rethink what is really the best way to spend the same amount of money.
If you are interested in our influencer marketing or other services, contact us here.
Click to contact applemint.